Make Your Season Special with December Promotions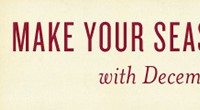 ---
Almost nothing makes an occasion memory-worthy like pleasant, unique aromas. With your order this December, we're excited to offer a free, spiritually grounding essential oil blend that will help you create just the right peaceful ambiance for your holiday celebrations: a 5-ml bottle of our promotion-exclusive blend Treasure of the Season, plus a 5-ml bottle of Vetiver.
Treasure of the Season: This limited-time seasonal essential oil blend combines two different varieties of Frankincense essential oil with Cinnamon Bark and Idaho Balsam Fir essential oils for a holiday blend unlike any other! This festive blend, which is both spiritually uplifting and emotionally grounding, is available only during December for this promotion, so be sure to get yours!
Vetiver: High in sesquiterpenes, Vetiver essential oil has balancing properties that can help calm the mind and elevate spirituality. Its earthy and soft aroma is perfect for diffusing during quiet moments.
Contact us for more information on the December Young Living promotions!