Kick Off 2017 with January's Inspiring Essential Oils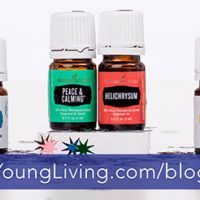 ---
There's something so deeply satisfying about starting a new year. New resolutions greet us as we shed the weight of the previous year, and the possibilities for what we can achieve stretch to the horizon. To get 2017 off to a great start, we've put together a handpicked group of rewards that you won't want to miss out on, including the return of the original Peace & Calming®*—just in time to set the tone for a happy new year!
• 5-ml Peace & Calming: Beloved for its gentle, sweet scent, Peace & Calming is a rare blend that combines Ylang Ylang, Orange, Tangerine, Patchouli, and Blue Tansy for an uplifting aromatic experience.*
• 5-ml Helichrysum: A great oil to diffuse when setting goals for the new year, Helichrysum has a stimulating aroma that no home should be without. Its woodsy, grounding scent is your perfect companion for 2017's resolutions.
• 15-ml Joy™: Combining the fresh scents of Bergamot, Ylang Ylang, Jasmine, and Rose essential oils, the aroma of Joy encourages romance, bliss, and warmth when diffused. Joy can also be worn as a fragrance to invite a sense of togetherness.
• 15-ml Eucalyptus Globulus: Containing a high percentage of the constituent eucalyptol, Eucalyptus Globulus is known for its deeply fresh scent. Diffusing Eucalyptus Globulus can bring a clean aroma into any room in the house.
• Bonus Essential Rewards exclusive: 5-ml Basil Vitality™: Planning on eating at home more in 2017? Look to our Vitality oils to add a boost of flavor! Basil Vitality has a sweet, warm scent and flavor that's found in a variety of dishes and is popular in both Asian and European cooking.
• Bonus Essential Rewards exclusive: 5-ml Citrus Fresh Vitality™:
This symphony of citrus combines Orange, Grapefruit, Mandarin, Tangerine, and Lemon oils with a touch of Spearmint for a zesty, refreshing burst of flavor.