Get Ready For Summer Break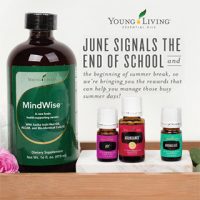 ---
June signals the end of school and the beginning of summer vacation, but that break can be as stressful as it is fun. That's why for this month's promo, we're focusing on essential oil-infused rewards that can help you manage those busy summer days!
16-oz. MindWise: MindWise™ combines exotic sacha inchi nut oil with a proprietary MindWise essential oil blend for a unique daily dietary supplement that supports normal brain and heart function.*
15-ml Abundance: Abundance™ combines authentic essential oils such as Orange, Frankincense, and Ginger—fragrances that ancient cultures believed could magnify a sense of abundance, joy, and peace.
5-ml Joy: The aroma of Joy™ encourages romance, bliss, and warmth when diffused. When worn as a fragrance, Joy invites a sense of togetherness.
5-ml AromaEase: Apply AromaEase™ topically to enjoy a refreshingly cool sensation or diffuse it to bring its cool, minty aroma to your home.
* These statements have not been evaluated by the Food and Drug Administration. These products are not intended to diagnose, treat, cure, or prevent any disease.