Celebrate The Holidays – December's Promotions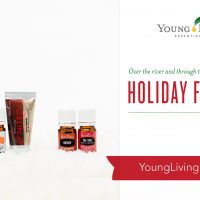 ---
Combining a handpicked selection of essential oil-infused products that will help you make the most of this holiday season, December's PV promotion also includes an exclusive, never-before-seen oil!
• December 2016 PV promotion-excusive 5-ml Excite: Available only in this month's PV promotion, Excite was crafted for the busy holiday season by D. Gary Young with Ocotea, Nutmeg, and more. Use this unique essential oil blend to support and inspire a sense of energy and excitement during the holidays and step confidently into the new year, ready to move forward and achieve your goals and ambitions.
• 15-ml Abundance™: Formulated with Orange, Frankincense, Patchouli, and Ginger essential oils, Abundance is a combination of traditional aromas that ancient cultures used to attract prosperity and magnify joy and peace.
• NingXia Nitro®: Skip the sugary drinks when you need a quick boost, and reach for NingXia Nitro instead! Keep a few NingXia Nitros in your bag when setting out on busy holiday excursions to support alertness, as well as cognitive and physical fitness.* Each box contains 14 20-ml tubes.
• 5-ml Orange Vitality™: Orange Vitality delivers the concentrated flavor of fresh oranges, making it a great addition in seasonal baked goods, daily NingXia Red® shots, and hot cups of tea.
• Bonus Essential Rewards exclusive: 5-ml Nutmeg: Perfect for the holiday season, Nutmeg essential oil has a warm, spicy aroma that's both energizing and uplifting. Diffuse by itself or with Orange, Clove, and Ginger to create a welcoming atmosphere that your guests will love!
• Bonus Essential Rewards exclusive: 5-ml Tea Tree: Known for its cleansing properties, the oil of the Melaleuca alternifolia tree is perfect for topical applications to keep your skin looking radiant and smooth, which is especially vital during cold winter months.