Welcome Autumn with October's Promotions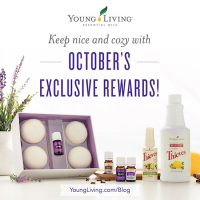 ---
October seems to be the perfect month to cozy up—a time that's just right to stay in while it's raining outside, enjoy a freshly cleaned home, and curl up in a fluffy sweater with a good book. Add a cup of homemade hot apple cider and diffuse your favorite essential oil blend, and it's hard to imagine wanting to be anywhere else.
• 14.4-oz. Thieves® Household Cleaner: Formulated with the power of Thieves® essential oil blend, Thieves Household Cleaner can be used on virtually every surface to clean, scrub, and freshen your entire home.
• New Zealand Wool Dryer Balls with 5-ml Lavender: Add a few drops of your favorite essential oil to our certified New Zealand Wool Dryer Balls and use in place of dryer sheets for a wonderfully wearable aromatic experience! Try Lavender to enjoy its wonderfully fresh, floral scent.
• Thieves® Fruit & Veggie Spray: Make sure your seasonal produce is ready for the table with our Fruit & Veggie Spray! Just a few spritzes followed by a quick rinse will cleanse your acorn squashes, parsnips, and other produce as nature intended.
• 5-ml Palo Santo: Palo Santo has an inspiring fragrance that can be diffused to invite a cleansing and uplifting atmosphere. You can also apply Palo Santo as part of a refreshing post-activity massage.
• Bonus Essential Rewards exclusive: 5-ml Clove VitalityTM: Perfect for adding complex flavor to both sweet and savory dishes, Clove Vitality essential oil has a uniquely spicy taste that's simply indispensable in autumn.
• NEW Bonus Essential Rewards exclusive: 5-ml Lavender VitalityTM: Bring a sophisticated, floral hint of flavor to your savory and sweet dishes by adding just a drop of Lavender Vitality, which you can also take as a daily dietary supplement.