Stay Active Throughout September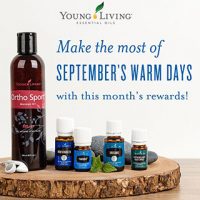 ---
Make the most of September's fleeting, wonderfully warm days with a bundle of freebies that will help you get more from your outdoor adventures! Combining a selection of essential oils beloved for their aromatic and topical properties, September's rewards give you the perfect way to make every day count.
Ortho Sport® Massage Oil: Ortho Sport® Massage Oil combines light, fast-absorbing vegetable oils like fractionated coconut and grapeseed with therapeutic-grade essential oils such as Wintergreen, Peppermint, Thyme, and Oregano that are perfect for a post-workout massage.
• 5-ml Northern Lights Black Spruce: Distilled at our Northern Lights Farm, this oil's rich and woodsy scent creates an invigorating atmosphere in any room and is the perfect complement when you're stretching before exercising.
• 15-ml Wintergreen: Wintergreen possesses a uniquely minty aroma that simply exudes freshness. An indispensable oil in any collection, Wintergreen is known for its signature cooling, deeply tingling sensation.
• 5-ml PanAway®: With a proprietary blend of Wintergreen, Clove, and Peppermint essential oils, applying PanAway® after an active day is a soothing and stimulating aromatic experience.
• Bonus Essential Rewards exclusive: 15-ml Oregano: Beloved for its strong, herbaceous fragrance, Oregano is a key essential oil used in the Raindrop Technique®.