May Means Mother's Day – May's Featured Promotions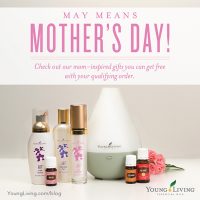 ---
Mother's Day is approaching fast, and we're bringing you rewards that will show her how much you care! Whether you're looking for gifts for Mom, your wife, or if you're the special lady who deserves a little pampering, May's PV promotion is loaded with Young Living essentials that will make her feel special all year long.
• ART® Skin Care System: Including our Light Moisturizer, Refreshing Toner, and Gentle Cleanser, this skin care trio is perfect for embracing your natural beauty.
• Dewdrop Diffuser: Inspired by the purity and elegance of a drop of morning dew, this diffuser brings functional décor to any room in the home.
• 15-ml Melrose: MelroseTM is an exclusive blend that brings together four of our rich, aromatic essential oils for a uniquely fragrant experience.
• 5-ml Manuka: Manuka essential oil supports the appearance of healthy-looking skin, making it the perfect addition to your favorite skin care products.
• Bonus Essential Reward exclusive: 5-ml Cedarwood: Known for its ability to smooth the look of skin, you can diffuse Cedarwood in the evenings to enjoy its earthy, relaxing scent.
*These statements have not been evaluated by the Food and Drug Administration. These products are not intended to diagnose, treat, cure, or prevent any disease.