Celebrate Winter Holidays With November's Festive Oils!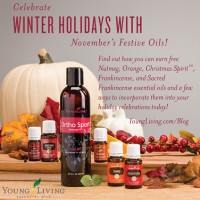 ---
Ring in the holiday season with one of the biggest promotions in Young Living history! We're celebrating the cooler temperatures and embracing our favorite time of year with generous rewards for everyone in your family. With your qualifying order, you can earn up to six free must-haves and member favorites: Nutmeg, Orange, Christmas SpiritTM, Frankincense, and Sacred Frankincense essential oils, plus Ortho Sport® massage oil!
November's featured products are:
Nutmeg: Nutmeg has a sweet, warm, spicy scent similar to the spice commonly used in cooking. Comforting and soothing, Nutmeg helps boost energy.*
Orange: Orange essential oil offers a distinctly citrusy, pleasant flavor and aroma for foods, drinks, marinades, and desserts. Orange essential oil features the naturally occurring constituent limonene.
Ortho Sport: Ortho Sport massage oil has a rich, cooling aroma and is designed for both professional and amateur athletes, as well as for anyone who works or plays hard.
Frankincense: Frankincense includes the naturally occurring constituent boswellic acid and has a woodsy, warm, balsamic aroma that supports grounding and purpose during meditation.
Sacred Frankincense: Sacred Frankincense has a rich, earthy aroma that helps to deepen spiritual connection. Sacred Frankincense is regarded the world over as one of the rarest, most sought-after aromatics available.
Christmas Spirit: Christmas Spirit is a sweet, spicy blend of Orange, Cinnamon, and Spruce essential oils that recalls the happiness, joy, and security associated with the holiday season.
* These statements have not been evaluated by the Food and Drug Administration. These products are not intended to diagnose, treat, cure, or prevent any disease.