December's Featured Products: The Best For Last!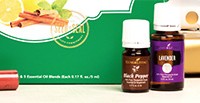 ---
We've saved the best for last as our way of thanking you for an incredible 2015. Not only can you take advantage of this free, giftable collection of our most popular essential oils, but with your qualifying order, you'll also receive free 15-ml Lavender and 5-ml Black Pepper essential oils, and LBriante'™ Neutral/Winterscent Lip Gloss.
15-ml Lavender essential oil: Lavender has a sweet, floral aroma that is soothing and refreshing. Lavender's relaxing aroma is great for winding down; add it to a hot bath or diffuse to create a calming and comforting aromatic environment.
L'Briante'™ Neutral/Winterscent Lip Gloss: LBriante'™ Neutral/Winterscent offers two products in one convenient package—an essential oil scent roll-on that effortlessly glides over neck, wrists, and temples for a signature scent that's all your own, plus a flattering shade neutral of lip gloss to add luster to your look.
Everyday Oils Collection: The Everyday Oils™ collection is the perfect beginner's kit, containing ten of our most popular and versatile essential oils. This kit will become a useful part of your day, every day. This kit also makes an amazing gift to give as singles or as a full collection!
Bonus Essential Rewards exclusive: 5-ml Black Pepper essential oil: Black pepper has a pungent, crisp taste and aroma. Taken as a supplement, it may support the digestive system* and can add a peppery zing to recipes like glazes, soups, marinades, and more!