Spring Is In The Air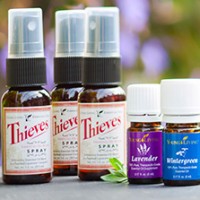 ---
Bring freshness back to your home with extra rewards in your April order! Celebrate the end of winter when you earn a free 5-ml Lavender essential oil, plus a Thieves® Spray 3-pack with your qualifying standard April order. With a qualifying Essential Rewards order, you'll also earn a bonus 5-ml Wintergreen essential oil!
5-ml Lavender essential oil: Lavender essential oil offers a fresh, floral, herbaceous aroma that is calming and refreshing.
• 3-pack Thieves Spray: Thieves Spray is ideal for small surfaces such as doorknobs, handles, and toilet seats and is a great companion for your spring cleaning.
• Bonus Essential Rewards exclusive: 5-ml Wintergreen essential oil: As an important ingredient in our Ortho Ease® and Ortho Sport® massage oils, Wintergreen is pleasant when applied after a workout. When diffused, it will also help you fill your home with spring-like freshness.